Your financial objectives may range from accumulating wealth to planning for retirement to making your money last as long as possible through retirement. In fact, over the course of your lifetime, you will undoubtedly pursue all of these goals. With the full range of financial services we offer, we can help you be prepared for all the significant events of your life.
Our objectives are to preserve wealth, achieve a reasonable rate of return, and counter the erosive effects of inflation and taxes. We provide discretionary asset management services to individuals and institutions and remain committed to following a disciplined investment process. We are held to a fiduciary standard to put our clients' interests first. Through this relationship, we have a mutually shared goal of protecting and growing your portfolio.
Our proprietary customized models help ensure we maintain the proper asset allocation among cash, equity, fixed-income securities and alternative investments. We believe the formula for investment management should include the key components of skilled investment research, long-term planning and a well-managed professional relationship. Calculating the tax effect of changes in your portfolio before making buys and sells helps avoid costly and unnecessary money paid out in taxes. As it is often said, "It's not what you make but what you keep."
There's much more to your life than simple transactions and returns. Similarly, there's more to financial planning than just a portfolio and a retirement strategy. You have many things to plan for now and well into the future, so we look at financial planning through a wide lens, and we develop strategies designed to keep you comfortable in the present while helping you reach your near and long-term goals.

Our comprehensive financial planning services include:
Net-worth analysis
Cash flow planning
Strategic asset allocation
Retirement planning

Traditional IRAs
Roth IRAs
Qualified retirement plans
Company retirement plan rollovers
IRC Sec.72-T and NUA tax strategies

Education planning

Education savings accounts
529 college savings plans
Custodial accounts

Trust and estate planning
Insurance and annuities
Liquidity and cash flow strategies
Tax planning and liability management
Retirement planning
Once in retirement, preserving your wealth and maintaining your lifestyle are likely among your highest priorities. Taxes and inflation can reduce your standard of living while health care expenses can become the biggest challenge to preserving the estate you have worked so hard to build. We can help you prepare for this most significant milestone in life. Monitoring your financial progress and adjusting for the current economic climate helps protect against the risk of having to adjust your standard of living in your retirement years. Our comprehensive analysis of your goals, resources and personal financial situation will give you the confidence to make the transition into the retirement you deserve.
If your goals include providing for the future of a child or grandchild, we can help you investigate your many options and develop an education funding strategy. We can help you provide for this opportunity with investment vehicles such as 529 college savings accounts, specialized trust vehicles and Coverdell education savings accounts.
Whether it's providing income for a spouse, educating children or grandchildren or leaving money to your favorite charity, proper estate planning can help ensure that your assets accumulated over your lifetime are preserved for the use you have intended.
A well-designed estate plan can effectively help mitigate your family's tax burden. We can offer financial strategies designed to efficiently manage the transfer of wealth from one generation to the next and mitigate related tax issues.
By coordinating our efforts with your tax and legal professionals and working closely with you and your family, we will strive to help you establish a financial tradition that can be passed on for generations.
As we live longer lives, there's an awful lot to consider about your retirement years – from choosing the right Medicare plan to the possibility of a healthcare episode to finding a ride to the grocery store. Raymond James has partnered with several services to help make these challenges easier for you and your loved ones. Click on the tabs below to learn more about the available services.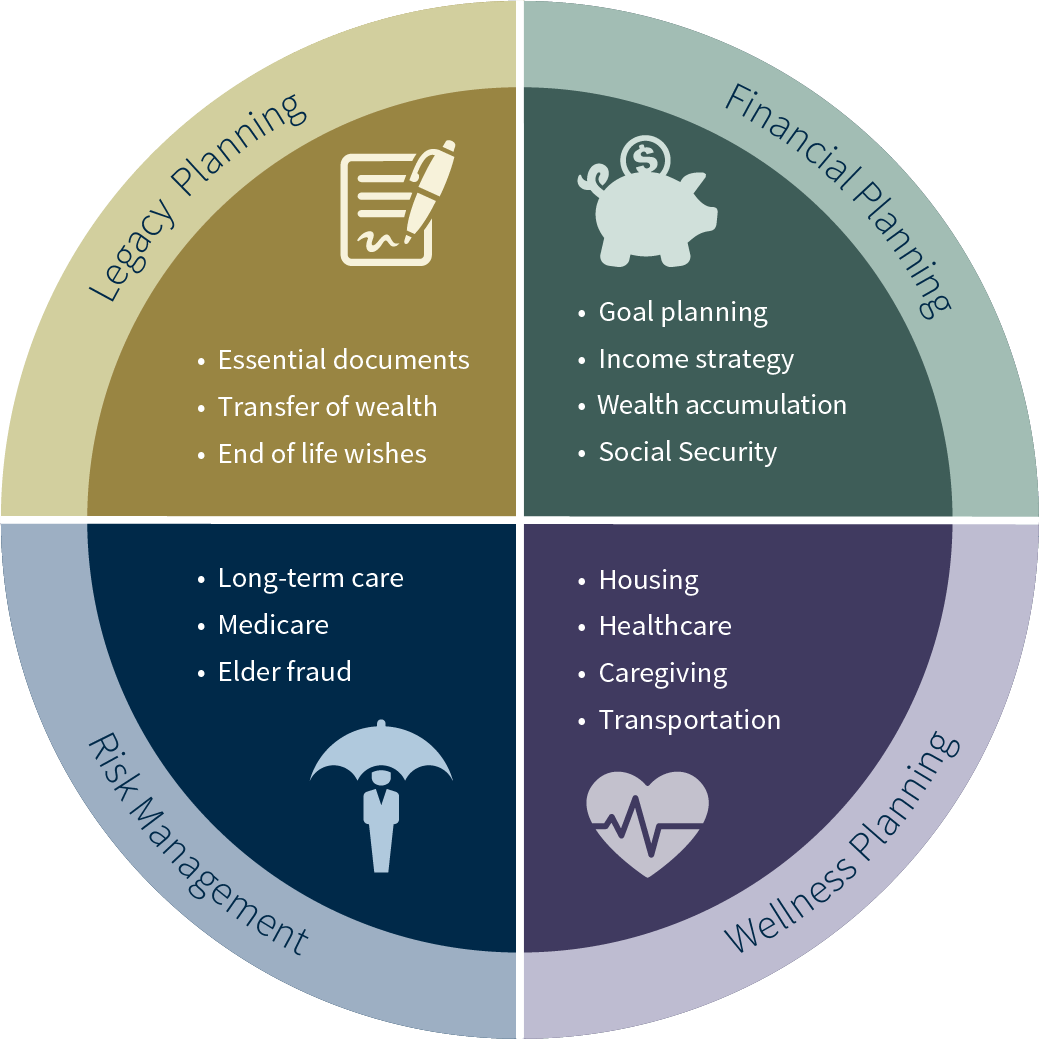 Financial Planning
With sound planning, we can all get a little more out of life – spending more time focused on what's important to us and less time worrying about finances.
Goal Planning & Monitoring
This sophisticated software program shows your full financial picture. It takes into account your specific goals, investment strategy, risk tolerance, spending and saving rates – and tells you the probability of achieving your goals.
IMPORTANT: The projections or other information generated by Goal Planning & Monitoring regarding the likelihood of various investment outcomes are hypothetical in nature, do not reflect actual investment results and are not guarantees of future results. Results may vary with each use and over time.
---
Wellness Planning
Your health and your finances are intertwined in complex ways. Plan ahead and consider the care you and your loved ones might need.
PinnacleCare
A concierge health service, PinnacleCare helps you manage a healthcare episode. PinnacleCare maintains relationships with top-ranked medical centers across the country and works with you to find the best treatment, schedule appointments, coordinate seeking a second opinion – even ensure an accurate diagnosis.
Broadspire
Broadspire helps you plan for the largest financial factors in retirement: housing and healthcare. Broadspire will assess, recommend and facilitate strategies for staying in your home as you age and other care needs associated with aging, from minor home modifications to finding the best memory care facility.
---
Risk Management
You're working hard to achieve success. Safeguarding your health and wealth is critical to ensure your quality of life in retirement.
HealthPlanOne
HealthPlanOne helps you navigate the complexities of Medicare by comparing options and finding the most cost-effective plan for you, while assuring appropriate coverage for your preferred providers, doctors and medications.
EverSafe
EverSafe seeks to protect you from financial fraud by using a proprietary algorithm to monitor your accounts for unusual activity. Alerts are sent to you and those designated as trusted contacts.
---
Legacy Planning
Leaving a legacy entails much more than leaving an inheritance or charitable gift - it's important to pass along celebrated traditions and cherished values to those you love.
Everplans
Everplans enables you to organize important information - from a will to a favorite family recipe - and end-of-life wishes, which can be shared with trusted family and friends. Everplans guides you through the step-by-step process, helping ensure your family has a full understanding of your life and wishes.